Artificial green walls lend instant aesthetic appeal to your interiors and exteriors adding greenery that soothes the eyes. Installing them is quickly done, and you won't have to worry about extensive maintenance. As a busy urban homeowner, it is understandable that you don't have the time to take care of the foliage with regular pruning, watering, and fertilizing. Eliminate these tasks with faux flora, and you can enjoy their lush appeal. The most exciting feature of synthetic foliage is that they are customizable. You can select from a variety of different plants that match and enhance your decor. Here are some factors to keep in mind when choosing the right artificial plants for your home.
Evaluating the Spaces for Installation
Identify the right wall for installing your artificial greenery. You can have a vertical garden covering a specific section or an entire wall. Then again, you can choose to install the panels covering the whole wall from top to bottom or up to three to four feet. Architects also recommend that you enhance the foliage with landscaping ideas like pebbles and small stones to give it the appearance of a real garden. If you wish to segregate your living and working areas, or the sleeping and lounging areas in a small apartment, you can get a mesh wall with synthetic plants to create a natural-looking screen.
Ideal for Indoor or Outdoor Spaces

Artificial foliage is an excellent design element for both interiors and exteriors. You could set up a partial green wall on a verandah or balcony of a high-rise apartment unit and develop a private garden for spending time. Add a small seating arrangement with a coffee table or mini work desk, and you're sorted. The faux plants are incredibly natural-looking with the perfect texture that moves in the breeze, similar to natural plants.
Are you concerned about fading because of exposure to the sunshine? Simply go with the UV-stable variety that is unlikely to get discolored. Set up the vertical green wall, and you won't have to worry about an intrusion of your privacy. Instead, you'll have a cozy nook for relaxing with your beloved cat or dog. What's more, your live green wall will maintain its appeal in any weather, especially in Chicago's cold, wet, and windy climate.
Easy Installation and Removal

If you live in rental accommodation, it is understandable that you'll want decoration solutions that won't damage the walls. Artificial green walls are available in the form of interlocking panels that can be attached to a wooden grid without damaging the drywall behind them. When you're ready to move, you'll take down the panels and reinstall them in your new home. As for maintenance, a quick spray with a solution of water and a mild detergent and wipe down should have the plants looking as good as new for a long time.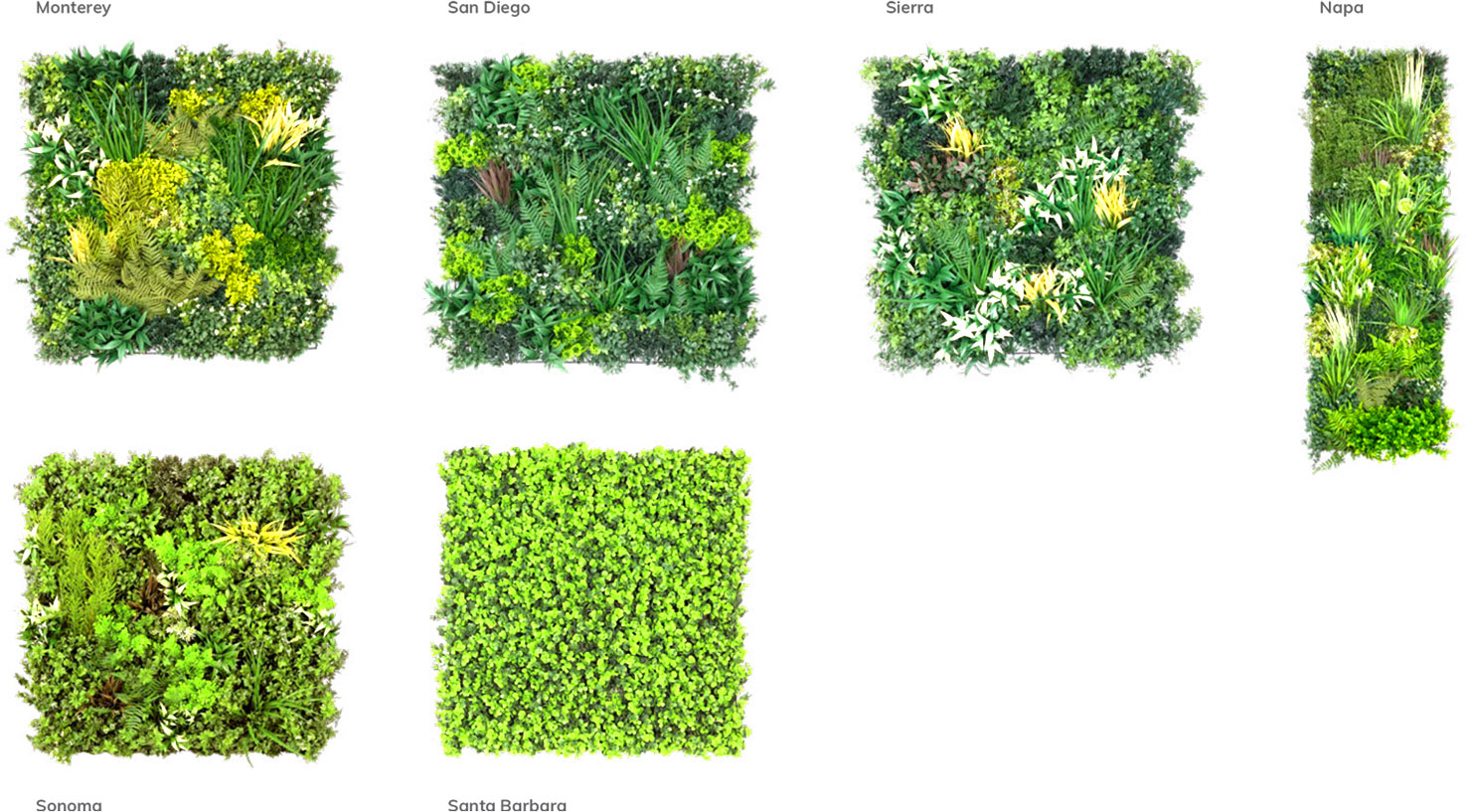 Choosing the Right Foliage for Your Decor

When picking out the suitable variety for your decor, you'll factor in the color of the foliage, its protrusion from the wall, and the extension off the edges. Here's a quick look at some of your options:
Santa Barbara comprises small leaves with a blend of vibrant light and dark hues. The foliage protrusion is 3½ inches and has the appearance of a lush carpet of greenery.
If you have a room with larger dimensions, you could go with Sierra. With a protrusion of 11¾ inches off the wall, Sierra combines different plants with medium to dark green leaves. The brilliant green is offset with yellow leaves, white-tipped leaves, and beautiful ferns. This faux vertical garden is also ideal for foyers and patios shaded with a pergola.
Sonoma has a medium protrusion of 7¾" from the wall and is again a blend of different plant species. The color scheme is bright verdant with delicate white flowers, medium-green ferns, and pretty green leaves with white tips.
Monterey is yet another option that seems to bring the forest into your home. With a protrusion of 7", this variety has a mix of pale green ferns, yellow leaves, green leaves with white tips, and medium to dark leaves.
The Napa panel shows off medium green leaves combined with yellow leaves and pretty flowers with white tips. This option again has a protrusion of 7" and is ideal for any indoor and outdoor space.
Artificial green walls are possibly the most popular decor feature preferred for residential and commercial spaces. Rely on gorgeous and long-lasting faux foliage that is compliant with ISO 9001 standards to transform your decor. Zero-maintenance, UV-resistant, and suitable for every kind of decor, these are the kind of products you can expect at SYNLawn decorative green walls in Chicago. Ready for more information? Contact us, and we'll recommend customized solutions for your home or workplace.
Short and Sweet Headlines are Best!