Adding a lovely, green lawn when renovating your property is a dream for every owner. You probably envision having a verdant landscape where you can spend time in the warm sunshine of Chicago's summers. Not every person has the luxury of having a property with open spaces around it. But, even if you live in an urban location, you need not give up on your dream. Like architects and designers now recommend, you could consider opting for artificial turf, instead. Use synthetic lawns for creating delightful gardens as part of all kinds of commercial and residential projects including bars, restaurants, and hotel rooftops. Not sure if synthetic turf is the right choice for you? Let's take a look at the many positives of putting down ready-to-use turf that is low-maintenance but also as appealing as the real thing.
Artificial Turf Complies with Class A Fire-Rating Tests
As your architect will advise, the City Building and Fire Departments of Chicago require you to use building materials, landscaping products, and wallcoverings that carry the Class A certification. The Class A confirms that the products have passed stringent fire-resistant tests before acquiring classification issued by the American Standard of Testing Materials ASTM E108. Artificial turf created by SYNLawn is capable of slowing down the spread of fire making it ideal for construction projects. Putting down these lawns gives you perfect functionality along with lush greenery that is soothing and pleasing to the eyes. Turn any spot into the perfect location to have a barbecue party with live music, conversation, and lots of great food. Or, create a golfing green and spend an afternoon polishing your putt.
You Can Choose State-of-the-Art Products that Combine Other Features
Artificial lawns have various positives which makes them the preferred option for architects and designers. Here are some of them:
Modern-day materials used to make the fibers of synthetic turf are antimicrobial which means that you won't have to worry about dealing with microorganisms that usually collect over time.
If you're concerned about the buildup of static electricity in the blades of the turf, rest assured that most SYNLawn grasses are anti-static. You can safely get SYNLawn Chicago products without the risk of damaging sensitive electronic devices with a static discharge.
Advanced synthetic turf is IR (infrared) reflective and won't heat up in the sun as much as any other standard, untreated turf. This advantage eliminates the need for getting solutions to keep the artificial turf cool. You won't need to factor in additional expenses that can include costs for retractable awnings or sprinkler systems to cool off the lawns.
Since artificial turf is lightweight, it won't add unnecessary load on the roof. At the same time, you get more insulation from hot and cold weather because of the layers of padding that is put down when installing the lawns.
Easy Installation with Instant Results
Artificial turf is the best solution when you're looking to convert a patio or rooftop amidst an urban jungle into lovely green spaces. You can call in the experts to install the turf on any kind of surface, even if the area is small, and they'll make recommendations accordingly. After measuring out the total space, trained crew members cut pieces from ready turf and install it quickly. Within a short time, your new garden is fully functional. Go ahead and set up loungers, lie back in the sunshine, and relax.
Synthetic Lawns are More Eco-Friendly
With the current focus on lowering the carbon footprint and conserving resources, one of the best advantages of synthetic turf is that you'll avoid the need for watering your lawn regularly. Statistics warn that up to 33% of the water used in the city is for lawn maintenance. By choosing artificial grass, you'll keep up with your commitment to water conservation and use only a limited amount of water during summer months. Experts in going green also talk about how you can avoid the use of gardening tools that run on gas or electricity. Eliminate air pollution that results when you use the equipment for blowing, mowing, and trimming real grass. Chemical fertilizers that pollute groundwater resources are another essential for growing lush green grasses. Artificial turf can help you avoid their use and do your bit for the environment by switching to options that will conserve valuable resources.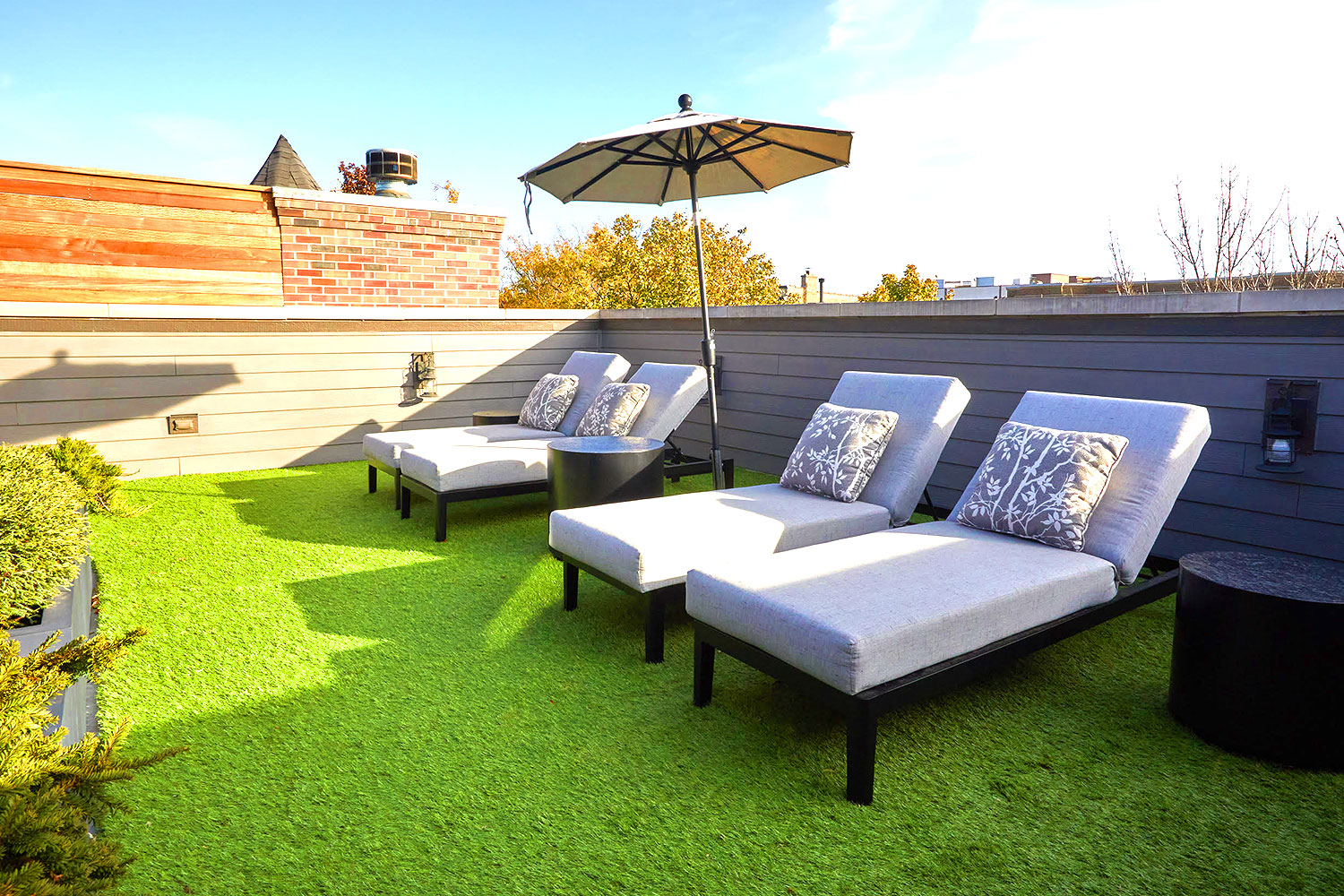 Fuss-Free Maintenance
Taking care of natural turf is a project in itself and you'll need to divert valuable time and efforts into its maintenance. From the time you sow seeds, you'll need to schedule sprinklers for watering the lawn and weekly mowing sessions. You'll also have to arrange for fertilizers and trimming and weeding. On the other hand, if you choose artificial turf, the only maintenance it will need is a quick spray down with water and a disinfectant session once in a while. Your architects will take care to add a slight slope to the garden that facilitates easy drainage.
Given a Choice – Artificial Turf vs Natural Grass – Pick Grace & Style with Easy Maintenance
If you're still debating on the positives and downsides of artificial turf vs natural grass, synthetic surf wins all the way. But, to get the results you're expecting to see, it is best that you work with one of the leading experts in artificial lawn installation. SYNLawn Chicago is a Certified Synthetic turf installer with accreditation from the Synthetic Turf Council. We have roof deck turf application expert teams on board that combine experience and high-grade expertise to deliver attractive exteriors that compliment your interiors perfectly. Rely on the first choice that top-tier architects and designers in Chicago recommend. If you'd like more information about turf solutions backed with professional installation, you've come to the right place. Give us a call at this number: (773) 857-5296 or visit our website: www.synlawnchicago.com and we'll have a team member drop by for a consultation.
Short and Sweet Headlines are Best!