Living in Chicago's urban environment can be challenging when you want privacy. Whether you live in a house or an apartment, having neighbors peeking into your yard or balcony can feel intrusive. If you own a house with a garden, you'll want intimacy and seclusion from passing joggers, toy drones buzzing around, or pet owners walking their pets. What you need is a solution that can screen your private spaces from an open view but also lend beauty and aesthetics. And artificial hedges might just be the perfect solution.
Artificial Hedges Blend Perfectly into Any Decor

When you're looking to create an intimate haven and block the sightline, solid metal structures or wooden fences are a thing of the past. Get creative with green hedges that allow light and air to pass while giving your family privacy to sunbathe, enjoy the hot tub, or have a quiet cookout meal. The right synthetic lawns and foliage will add style to your garden, patio, or balcony decor. Faux hedges are available in a wide selection of plant species and colors and work wonders for enhancing the appeal of your outdoor spaces.
You Can Achieve Instant Results

Artificial hedges have several benefits as compared to real plants. The most critical being that you won't have to plant the ivy and other foliage and wait for it to grow to the desired heights. You can get instant results by installing synthetic hedges. The plants are mature and functional straight out of the box and look fantastic. Best of all? The lush, live greenery transforms your spaces without the need for regular watering, maintenance, allergens, or pests and bugs. Worried about pets digging an escape route under the wall and going exploring? Or, munching on the leaves? Go with artificial hedges that are firmly affixed and cannot be chewed up.
Create a Cozy, Shaded Spot with Mottled Sunshine

Residents who are concerned about neighbors peeking into their garden or balcony from high-rise structures around can opt for pergolas. You'll thread natural-looking vines through the beams and have some of them trailing downward. The mottled sunshine dancing on your sofas and dining area provides a hint of romance with just the right amount of shade for a relaxed summer afternoon with loved ones. Stay cool while enjoying the gentle breezes from the lake wafting around.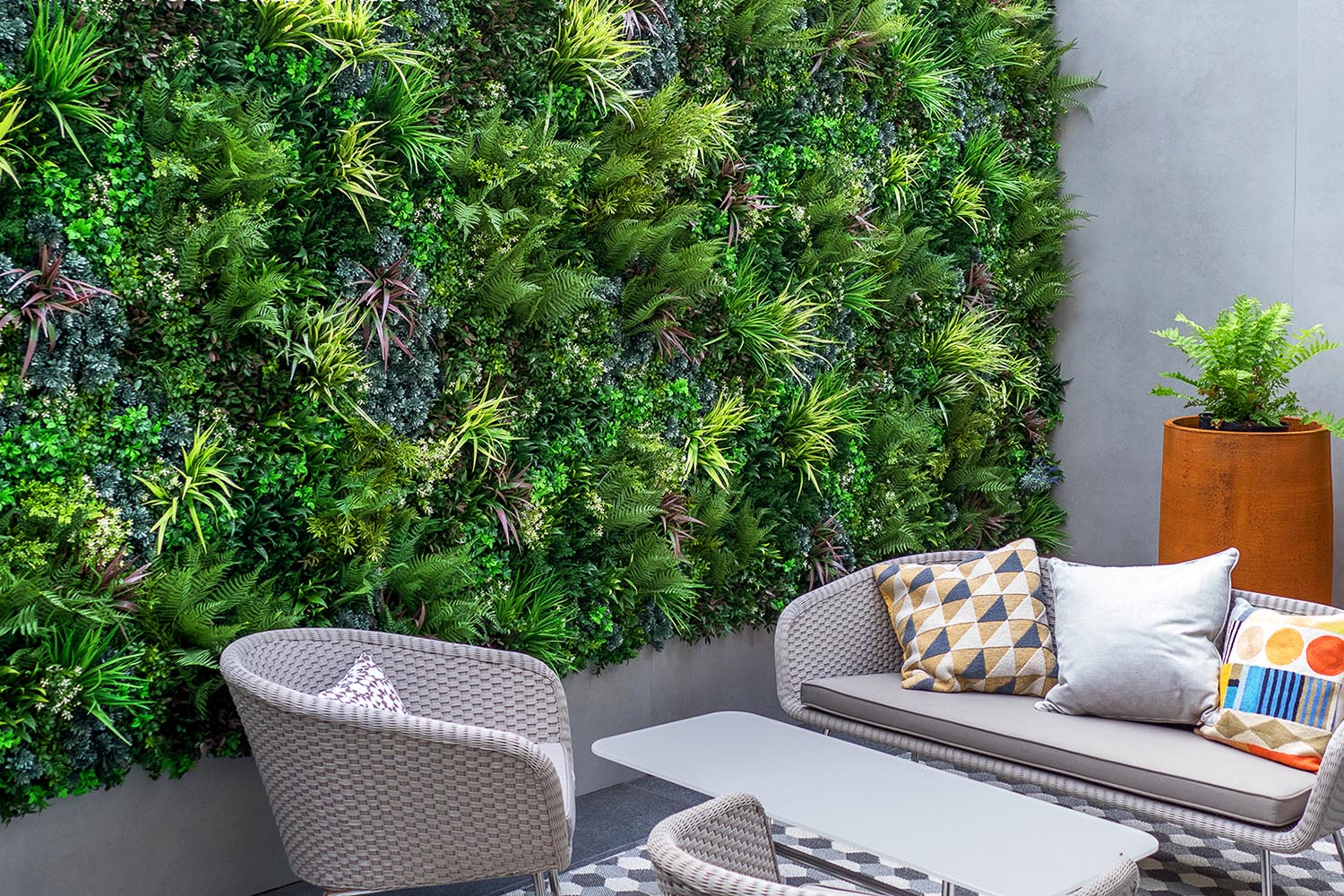 Build a Living Wall

Wooden, metal, or concrete fences around the yard can be incredibly boring and unappealing. Wood also tends to fade and look tired after a few years in Chicago's wet and windy weather conditions. How about dressing up the walls with a few artificial hedge panels. You can go with a blend of different plants, some with small and large leaves and others with delicate white and yellow flowers. A selection of lighter and darker leaves can also transform a dull wall into a vibrant, living wall. It's the perfect backdrop for a lovely dinner with friends and family.
Section Off Large Yards with Artificial Hedges

Artificial hedges are a great option when you have a large yard and wish to segregate sections for dining or relaxing. Or, for lending privacy to the pool area where you like to sunbathe. Multi-family, high-rise apartment complexes are now developing outdoor spaces on their terraces with synthetic hedges for creating private booths. Individual families can grab one of them to spend time outdoors enjoying a meal or just letting the kids play.
Using Artificial Hedges to Build Secluded Balconies

While on the subject of high-rise apartments, we understand the value of creating a cozy nook on your private balcony. You'll set up a small seating area where you can curl up with a good book or snuggle with a pet. Or, tap away on your laptop with the fresh breezes stimulating your creative juices. Invest in an artificial hedge to build a barrier that will allow in the sunshine and cool air but also give you all the privacy you need.
How About Synthetic Hedges for Your Indoors

The exciting thing about faux hedges is that you can use them to divide up a room into different areas. Install the panels on a low grid partition wall up to heights of three feet to segregate the room without making it look smaller and cluttered. Possibly the best positive is that the panels are customizable, which means that you can take them down to open up the room, if needed.
At SYNLawn, we have a whole bunch of exciting ideas for using artificial hedges for privacy--for both, your outdoor and indoor spaces. And, we'd love to share them with you. Give us a call and we'd love to come by and take a look around.
Short and Sweet Headlines are Best!