A beautiful, well-maintained lawn is not only essential to improve the curb appeal of your commercial establishment, but it is also your brand ambassador. Clients and customers visiting your premises should be impressed by the verdant green grass and not put off by dead and dying brown patches. A good first impression matters, which is why business owners now prefer synthetic turf for greenery around their parking lots, on strips abutting the sidewalks, and even indoors, near reception and recreation areas. In addition to an attractive look and appeal, artificial surfacing is economical and provides a great return on investment (ROI). Would you like to know more?
Corporate Office Buildings
Synthetic turf and vertical gardens with faux plants are increasingly used in corporate office buildings. That's because they can be installed in any location, even those that are hard to mow and maintain regularly. Zero-maintenance, versatility, and the availability of a stunning selection of plant varieties are some of the added positives. Architects no longer need to worry about using plants that need natural sunshine, watering, and upkeep. This is why they are open to using faux grass in office cafeterias and employee relaxation areas where people can release stress and unwind before returning to their desks.
Canine Daycare Facilities and Veterinarian Clinics
Canine daycares need to have open yards and green spaces where their furry guests can play and burn off energy. Artificial turf has been proven to be safer for use around pets for multiple reasons. Since there is no mud, dogs cannot dig it up and destroy the garden. No chemical pesticides or weed killers need to be used, making the grass toxin-free for canines. Any urine stains and odors resulting from fecal matter can be hosed away with a water spray. Most importantly, synthetic grass does not carry fleas and ticks that can hitch a ride on canine hosts. With so many positives, vet clinics also prefer to invest in faux turf for their four-legged clients.
Premier Golf Clubs
Well-maintained turf is an essential prerequisite of a successful golf club. However, maintaining green grass can be incredibly challenging, especially in locations like Chicago, where the climate is cold, wet, and windy. Opting for synthetic turf ensures that you have the perfect mini-golfing greens or driving ranges that your club members will appreciate. You can work with the installation experts to put down turf with the appropriate blade lengths that provide ideal conditions for golfing. Save on maintenance costs and maximize profits with eco-friendly artificial grass.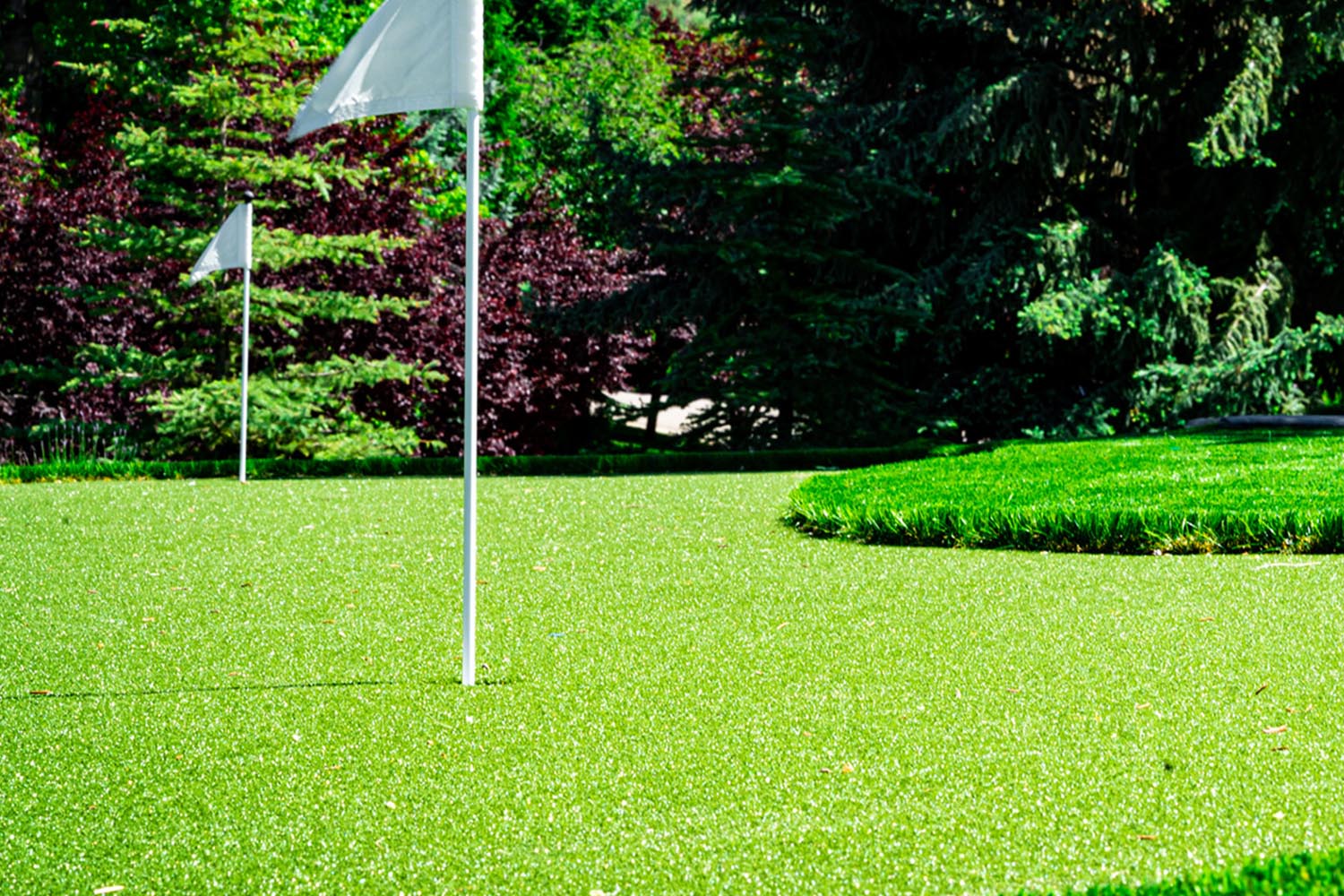 Hospitality Industry
Restaurants, hotels, motels, and resorts must have well-landscaped gardens to enhance their appeal and their guests' experience, indoors and outdoors. Synthetic grass is a one-time investment that provides high-grade performance for 10 years and more. You can develop green spaces in any area on the property, whether poolside turf, rooftop, dining areas, or entertainment areas. Beautiful lawns and vertical gardens are great decor add-ons for conference and meeting rooms and venues where special events are organized, such as weddings, birthdays, and parties.
Apartment Complexes
In recent times, apartment complexes are more than just rental accommodations. They are complete lifestyle ecosystems that include all the high-end amenities residents could be looking for. These include a swimming pool and rooftop gardens for outdoor meals and spending time with loved ones. You might also want to make provisions for sports like a tennis court, table tennis, cardio and fitness centers, media rooms, Yoga rooms, and community clubhouses, to name a few. Artificial turf can be the ideal accessory for these add-ons, ensuring full occupancy and an attractive rental income. Rising property prices are just another of the many benefits.
Pro Athletic Facilities and Fitness Centers
Installing faux turf is an excellent option for pro athletic facilities to simulate the outdoor environment even when athletes are training in temperature-controlled environs. While synthetic turf provides more shock-absorbancy than natural grass, the buoyancy and impact protection can be enhanced by putting down an extra layer of foam padding. This feature can be especially helpful for high-impact sports like martial arts and wrestling to help minimize the risk of injury from falls. The improved traction provided by fake grass is also beneficial for sports like soccer and football.
Bodybuilding athletes and fitness freaks lifting weights and heavy equipment may find that the padded surface tolerates abuse from drops much more efficiently. You can also expect this surfacing solution to last you for a longer time than any other conventional option, helping you maximize profits from running the facility.
Whatever commercial establishment you own and manage, you can rely on SYNLawn artificial surfacing and vertical gardens to improve their aesthetics and functionality. When you're ready for more information, find us at SYNLawn, and let's put together custom designs for your property.
Short and Sweet Headlines are Best!