Given the incredible array of materials, lengths, color variations, and other features of artificial grass, being unsure about the right type for your backyard is understandable. Synthetic turf looks closely like natural grass in color, texture, and functionality, but you'll choose the right kind depending on how you intend to use the outdoor spaces. Read ahead for some detailed information that you're sure to find helpful.
Shorter Piles
Shorter piles are typically 1 ½" and lower and best suited for backyards where pets play. Although shorter heights may not give you the natural look and appeal, this length is ideal for pet paws and are durable enough to withstand their activities. And, that includes trying to dig up the lawn during exuberant play sessions.
Some good examples of shorter piles are the Pet Platinum and Pet Premium from SYNLawn. The most critical positive is that this pile is easy to clean and resistant to odors. At SYNLawn, we also recommend polyethylene grass blades that are extremely resilient and combined with UV-resistant yarn to prevent fast fading due to exposure to the sunshine.
Medium Piles
Artificial grass with blade lengths between 1 ½" and 1 ¾" is considered the medium variety. This pile is just the right size to achieve the completely natural look of real grass. At the same time, the pile is not so heavy that it cannot stay upright and perky. Most homeowners go with this option since it is versatile and tolerates people and animals playing or just hanging out.

Medium pile synthetic lawns are designed to accept any kind of trouble your kids could get into. Made with durable polyethylene, this turf is heat-reflective, antimicrobial and anti-static. Play Platinum and Play Premium from SYNLawn are medium piles designed with non-abrasive and non-microbial features for kids to play safely.
Long Piles
Long pile synthetic turf measures 2" and above. Although these levels are also available, they're more suitable for lawns that are unlikely to see much footfall and are purely decorative in nature. At SYNLawn, we don't recommend long piles since the blades tend to get heavy and flatten more easily. You should also prepare for the possibility of the turf attracting more wind-blown debris and needing frequent brushing and maintenance.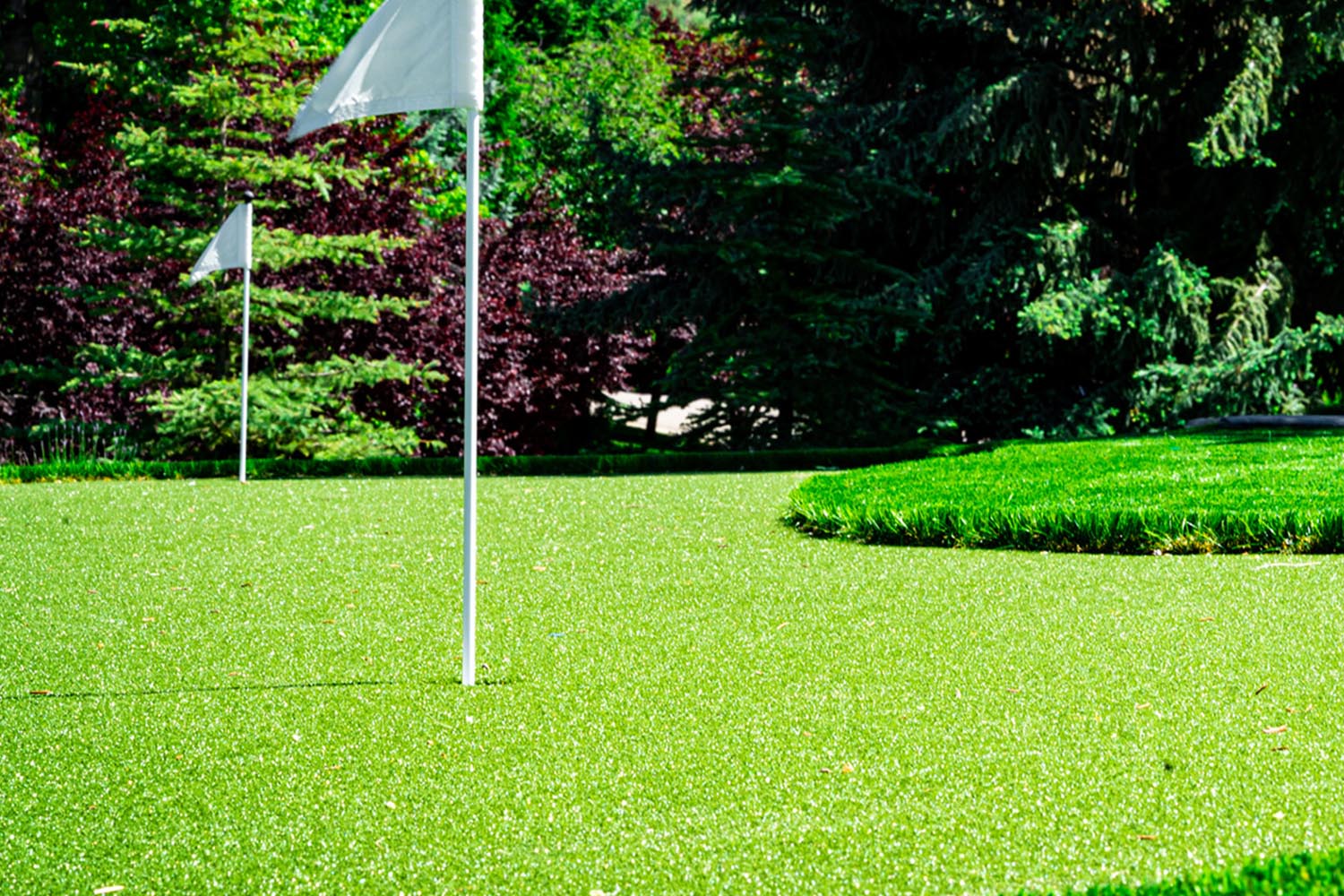 Nylon
Synthetic grass is made from different materials, each with their own positives and uses. Nylon is possibly the most durable material that can take a lot of footfall without losing its integrity. Nylon is also resistant to high temperatures making it suitable for locations that get high exposure to reflective heat. However, if you're planning on building a private putting green, nylon would be the ideal choice.
Polyethylene
Polyethylene is the most preferred material for synthetic turf not just for private homes, but also for athletic fields for playing sports like baseball, football, and soccer. Polyethylene adapts to different textures and is soft like natural grass. Landscaping made with polyethylene is also suitable for homes with pets since it is non-porous. Any liquid and solid waste can be easily washed down with a thorough hosing. You won't have to worry about odors since there is low chance of bacterial growth.
Polyethylene products are available in a wide range of qualities and price ranges. Should you choose the higher-end products, you can expect a good return on investment with the synthetic grass staying green and perked for a longer time. You won't have to worry about the blades flattening or fading in the sun quickly. Raking or brushing from time to time should have your yard looking as good as new.
Choosing the right kind of turf that matches the purpose you have in mind and budgetary constraints needs to be a carefully worked-out decision. Rely on the expertise of the folks at SYNLawn to help you with the right advice. They'll spend time with you understanding your requirements before designing the perfect combination that will last long and perform well.
Short and Sweet Headlines are Best!