Having a dog in the family is one of the most rewarding experiences one can ever have, and nothing will ever be able to surpass the love and devotion your four-legged buddy will shower on you. Chances are that you find it hard to resist those big, melting eyes begging you to let them outside so they can play on the lawn. As any pet lover will tell you, maintaining a beautiful yard and dealing with the sad whimpering just doesn't go together. If you're contemplating how to balance the two, here's THE solution: SYNLawn synthetic turf. Let's talk about why.
1. You Can Stop Worrying About Mud Trailing Through the House
Like your doggo will tell you, wet mud, grass, and puddles are the best place for playing. Digging up the dirt, rolling around in it, and tossing around dead grass is so much fun. But, it's also a pet owner's nightmare. Put down a synthetic lawn, and you eliminate all the mess. Your buddy can play for long hours on the lawn without trailing mud through the house - and, you struggling with bath time at the end of the play session. They'll quickly learn that this grass cannot be uprooted.
2. Synthetic Turf is Not Harmful to Your Friend
Pet parents can be rest assured that artificial turf is completely safe. The blades are made with non-toxic polyethylene, which is the same plastic used for making dog feeding and water bowls, water bottles, bags, and various other everyday things you use around the house. The blades are securely tufted into a backing layer so your buddy cannot easily tear it up or eat the grass. To address odor, our turf system incorporates an ammonia-absorbing infill material that is naturally organic. It is safe for owners and their pets.
3. Your Pet Can Safely Play Without Risking Injuries
Like your vet will recommend, households with canine members should choose floor surfaces that provide adequate traction from slipping. Your dog is prone to cruciate ligament tearing that results from their hip, shoulder, knee, and hip joints bending outwards. The treatment often involves expensive surgery to repair the damage. Avoid spending money by choosing SYNLawn turf, which is the ideal surface where dogs can play without the risk of sliding. And, that's not all. The grass fibers are woven into the backing so that dog nails are not likely to snag and break, a condition that can be extremely painful for your little friend.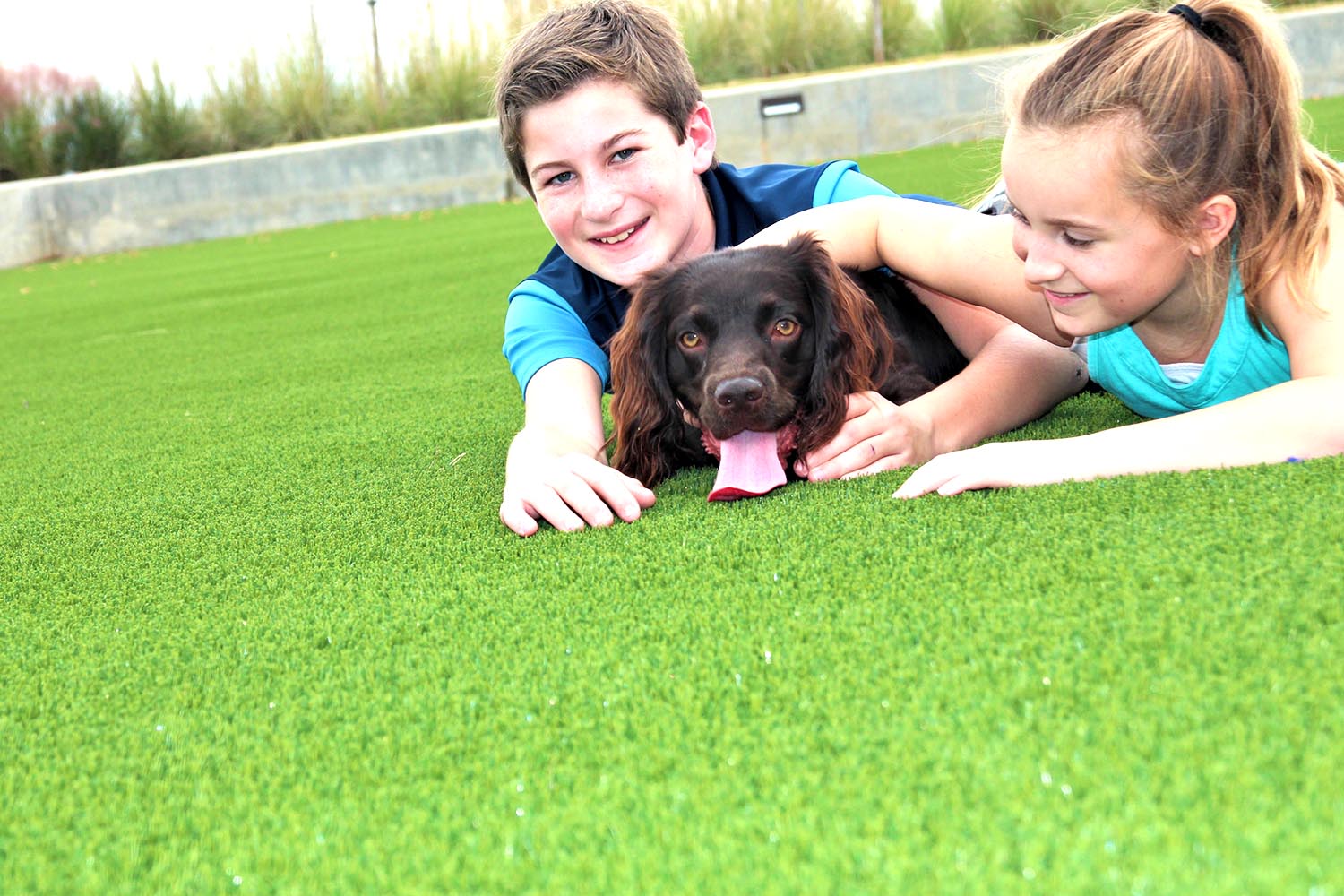 4. You'll Protect Delicate Paw Pads from Burning and Freezing Cold
The pads under canine paws are delicate and prone to burning when walking on hot concrete. In winter, you will protect your buddy's feet from cracking and bleeding because of walking on icy cold surfaces. What if you could eliminate all these issues? Put down synthetic turf that is unlikely to get too hot in summers nor too cold during winters. Any rainwater or melting snow drains away quickly without waterlogging and leaving puddles in the lawn. You can safely walk your buddy without frequent trips to the vet to treat their feet.
5. Cleaning Up After Your Buddy is Convenient
Mud and grass are natural spots for dogs to relieve themselves. Despite months of intensive training, accidents do happen. Synthetic turf makes it easy to clean up. You can pick up the solid waste and throw it away. For liquids and debris, a thorough hosing can clean the lawn, without the possibility of odors.
6. You'll Protect Against Bugs, Fleas, and Lice
Artificial turf isn't exactly a favorable habitat for bugs, ticks, fleas, and other creatures that thrive on canine fur. Not only can they make your buddy ill, but you risk them entering the house. Avoid all that itching, biting, and patches of rough and matted coat. You'll end up getting extensive treatment for ridding bacterial infections, small wounds, and redness because of the ticks and lice. An added advantage is the lack of allergens in the grass. Many pets have skin that is sensitive to natural grass and end up having reactions. Go for SYNLawn, and you'll eliminate all these potential problems.
7. You'll Avoid Exposure to Chemical Pesticides and Fertilizers
Natural lawns require a lot of chemical pesticides and fertilizers to grow well. If you're concerned about the toxins harming your four-legged friend when they get out to play, just don't use them. Once you put down artificial grass, you can expect it to remain green and resistant to UV rays for a long time.
Enjoy your outdoor space without the typical downsides of natural grass with the best solutions from SYNLawn. Play with your buddies outside and soak up the sunshine with synthetic turf. Want to know more? Contact us to find out why your furry friends will recommend you go with artificial turf.
Short and Sweet Headlines are Best!