More contemporary companies are investing in high-performing buildings and office complexes to increase employee productivity. Their focus is on creating a better environment conducive to the well-being of the workforce. An interesting concept called Buildingomics has emerged that blends architecture as a science with health science. And, the key defining factor is integrating more greenery.
Foliage within the office spaces enhances cognition by up to 26% and lowers sick days by at least 30%. As a corporate employer, if you've been looking for practical options for infusing nature into the workplace while keeping maintenance costs down, synthetic foliage might just be the ideal solution. Read ahead for some great ideas that will effectively liven up your interiors and boost employee performance.
Create a Vertical Garden on One Wall
A vertical garden on one wall of the office instantly infuses a soothing feel to the ambiance. You can get a selection of plants in varying sizes and shades that closely resemble natural foliage. These plants resemble the real thing in exact dimensions and textures, and even mimic their movement with air currents. Get them installed indoors behind the office reception area or at the entrance to the building. Synthetic vertical gardens are available in customizable panels that seamlessly interlock into place. When needed, you can simply uninstall and move to a different location.
Enhance the Recreation Area
Post-pandemic offices are no longer compact cubicles where employees spend eight hours of their days in relative isolation. Contemporary offices are adaptable spaces that entice workers to come in and work. You'll see more flexible desks where people move around with their laptops to continue working in recreation areas and gardens. The atmosphere is designed for the free-flowing exchange of ideas and concepts, team collaboration, and brainstorming. Thanks to synthetic turf, such spaces can be created in any location, indoors or outdoors. Set up beautiful green spaces where people can walk around barefoot while ideating new concepts for innovative products.
Conference Rooms
Artificial foliage is a great choice when designing the perfect decor for your conference rooms. You'll impress potential clients and business partners by communicating the company's style statement and adding an element of grandeur. A synthetic vertical garden can be the focal point of the room and form the backdrop for displaying the company's logo and signage. Not only can you add to the appeal of the conference room, but you'll also instantly impress visitors while adding enthusiasm to the workplace ambiance. Adding foliage is a great way to use color psychology because green represents growth, vitality, freshness, and innovation. You'll use a blend of light and dark green hues, interspersed with white tips and lavenders to indicate wealth and prestige. Subtle impressions like these can win you coveted projects and attractive deals.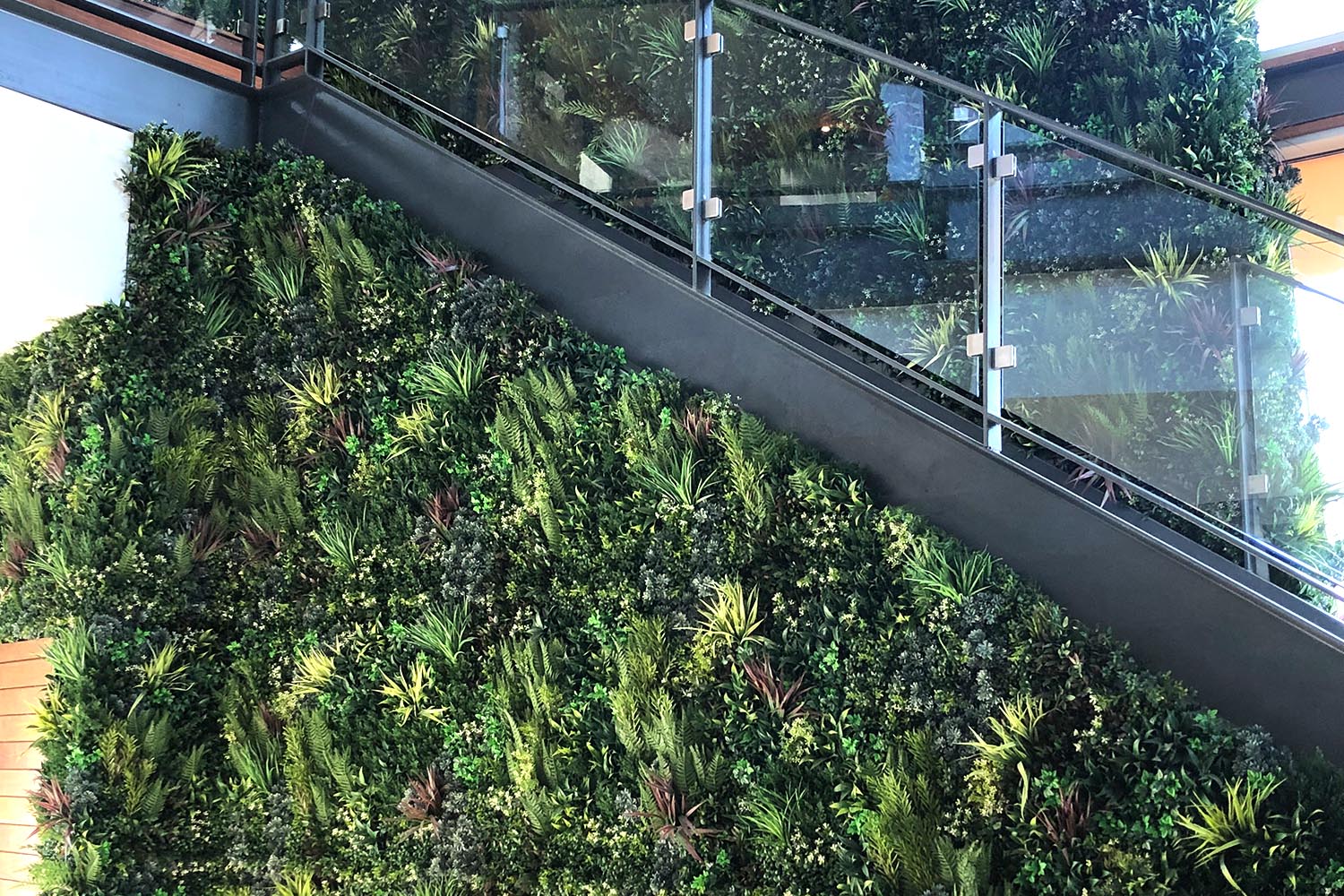 Lawns Outside the Office Premises
Commercial landscaping solutions are now increasingly opting for synthetic lawns. A well-maintained garden is sure to create a favorable first impression on visitors and customers. You'll have them talking about your company and brand name while inspiring conversations and an excuse to linger in the lively spaces. An impeccable front indicates attention to detail and dedication to perfection, thus reflecting on how you conduct business. Traditionally, high-ranking and reputable personalities would illustrate their social positions, fortitude, and power by having beautifully designed lawns and gardens. Integrate this principle into your office premises with synthetic turf.
Artificial Foliage Has Several Benefits
When choosing suitable faux foliage for your office premises, you'd go with CLASS A fire-rated turf that is well-suited for the indoor environment. Several other features make this decor accessory a cost-effective solution.
You'll save on water and lawn equipment emissions and show your commitment to the planet.
You need not employ a team of maintenance specialists to maintain the greenery with regular trimming, fertilizing, watering, and other tasks to have it looking perfect.
Eliminate the possibility of dead and dying leaves, droopy stalks, and insect infestation with artificial foliage.
Faux turfs and greenery can be installed indoors and outdoors without worrying about the plants dying from the lack of sunshine and favorable climate conditions.
Since they are made with eco-friendly materials, you need not be concerned about toxins or allergies for the occupants of the premises.
You'll enhance the office instantly without waiting for the plants to grow to their optimum sizes. Or worrying about them growing too big for compact spaces.
You can switch plant species around to match the seasons or when you're ready to give the decor a makeover.
Contemporary building architecture is all about ensuring the mental, psychological, and physical health of the workforce. Adding greenery has been scientifically proven to boost productivity and lower stress, among various other benefits. Bring these positives into your commercial spaces by choosing from our synthetic foliage solutions. Give us a call and rely on our expert designers to develop a customized plan for you.
Short and Sweet Headlines are Best!