Living in downtown Chicago with its buzzing, vibrant lifestyle is fun and exciting. But, if you've always wanted green spaces to spend time, you could develop outdoor areas on your rooftop, balcony, or patio. A rooftop garden is an excellent spot for spending time with family and pets while enjoying the fantastic weather and spectacular views of the city.

Outdoor spaces have also become a must-have amenity for upcoming high-rises and apartment units. Installing synthetic turf is the best solution to spend time in the open-air with the minimum of maintenance issues. However, when putting down artificial grass, you will want to take the necessary precautions to ensure that the garden stays green and fresh for a long time to come. Here's how.
Check with your Architect for the Load-Bearing Capacity of Your Rooftop Deck
When planning the rooftop deck, your primary concern should be the load-bearing capacity of the roof. Newer constructions are typically sturdy enough to take the excess weight, but if your house is older, you might want to check with the builder for confirmation about the weight it can safely take. Also evaluate the weight of the furniture, potted plants, and other accessories you intend to install along with the maximum number of people who could be using the deck at a given time. Artificial turf is, undoubtedly, lighter than real grass.
Prepare the Installation Area

The professional installer evaluating your rooftop site will examine the existing material for suitability for artificial turf. Most Chicago rooftops are made with single-ply EPDM (ethylene propylene diene monomer) or rubber membranes. TPO single-ply roofing is another commonly used material thanks to its 100% protection from water seepage and resistance to UV rays. Your new rooftop garden likely won't require much surface prepping or waterproofing before putting down.
Ensure Smooth & Efficient Drainage
Before installing artificial turf, it is critical to ensure that any rainwater or melting snow will not pool under the surface. The turfing professionals will likely evaluate any drainage issues. If needed, they'll install drainage tiles or a drainage grid that will direct the water to flow toward the exits. If you intend to walk pets on the roof, liquid waste would have to be hosed down with fresh water thoroughly. That's another reason why efficient drainage is necessary.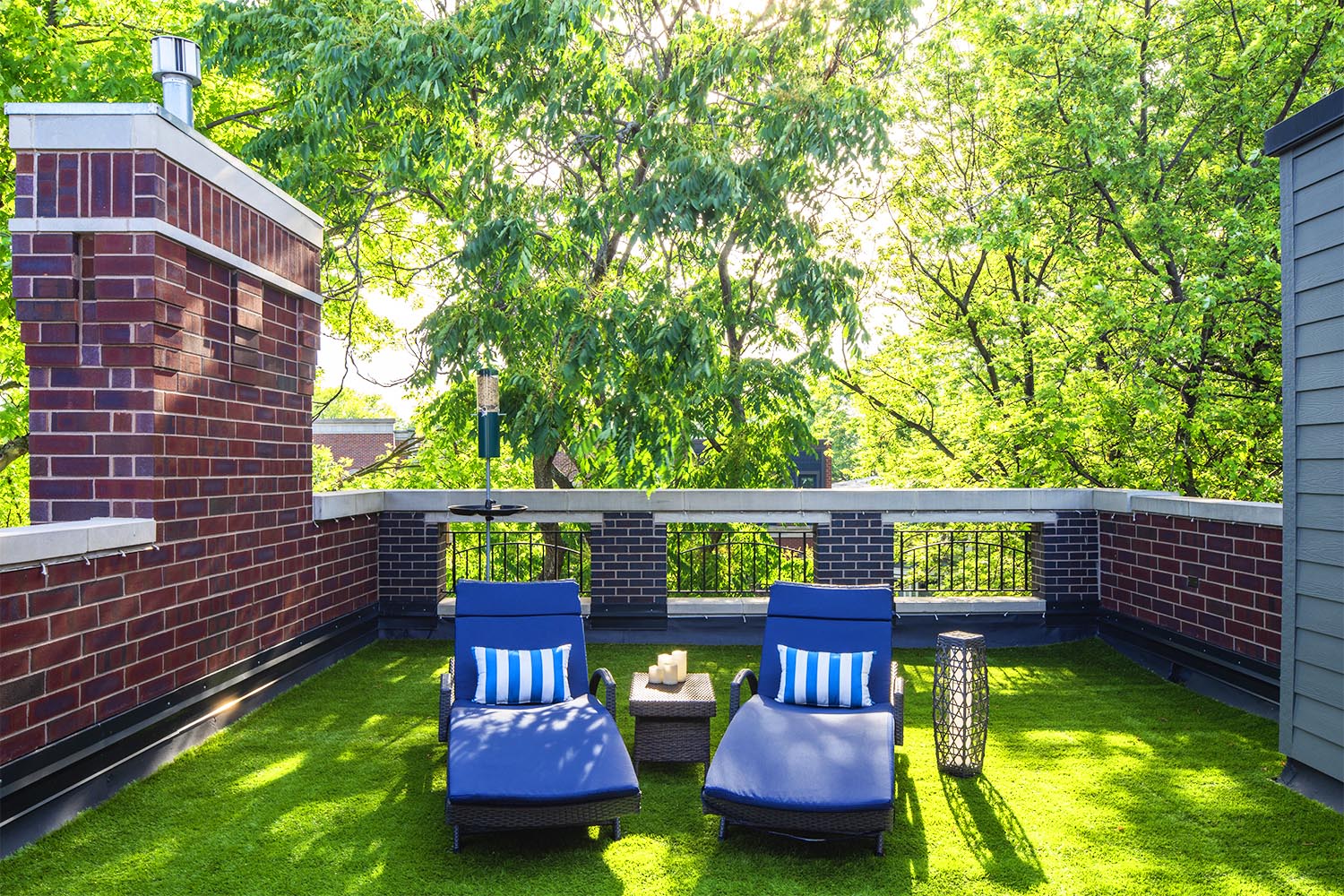 Segregate Outdoor Kitchens and Firepits Carefully

An essential element of planning your rooftop garden is the functionality, such as entertaining, letting the kids play, working, sunbathing, or having meals. If you intend to set up a kitchen or barbecue area, make sure to segregate it carefully. Do keep in mind that burning embers and hot surfaces can damage artificial grass. For this reason, you'll want to separate the areas where you'll organize the cookouts.
Go With Professional Artificial Turf Installation Experts

While you can consider a DIY installation project, bringing in the experts is always a smarter move. That's because they are trained in the finer nuances that can make a significant difference in the feel, functionality, longevity, and aesthetic appeal of the finished product. For starters, they'll ensure that adequate glue is used to ensure that the layer of artificial grass remains secure in Chicago's windy conditions. You'll also need the right amount and type of infill to suit the city's cold weather.
Developing a rooftop garden with synthetic turf and foliage is an exciting project and can transform the look and appeal of any drab, concrete/membrane-topped roof. Before you start planning, pay attention to these small details so that your outdoor area is the ideal spot for spending time with friends, guests, and family amidst an urban setting. Get the professionals to come in and take a look around or even do the installation for you. And, you'll enjoy having a lovely green place.
Short and Sweet Headlines are Best!